Well, tomorrow's the BIG day, folks — it's MOVE IN DAY! Tonight will be the last night we sleep in this condo, and the last morning we wake up in these bedrooms, and the last morning we have tea in this kitchen. It's bittersweet, but we're reeeady to be done with this 2-month move in process. We're ready to wake up every day and get started on fine-tuning, unpacking, decorating, and making the new dreamy headquarters all our own! ::squee eee eee eee eee!!!::

Darling Hotbuns is down with a lot of my retro/vintage flare(s), but he also likes to have new appliances and doodads that are modern, too. Therefore, we won't be having an *entirely* retro/vintage house. ::smile:: It's all about the compromise! Thankfully, DH & I do share very similar tastes (thank every deity, star, penny, & eyelash ever to exist, because it's a beast when that is not so!). So our new digs will be a hodgepodge of contemporary & retro relics, as time goes by — not unlike the fantabulous assortment of photos I have shared with you all [below]. I've basically built a home, room-by-room, by scouting the Internet for eye-catching inspirations. Starting with…
Keep calm & DECORATE on, Dollfaces! T.G.I.F.!
~ Angelika Frangelico *Gros bisous*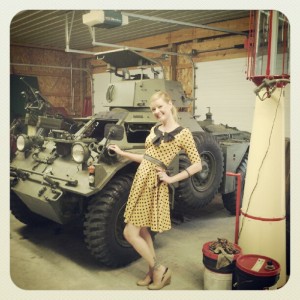 <—- Speaking of garages, here I am in my uncle's garage this summer. Wanna take a joyride?