Well, I've listed my 3 favorite accessories to you over the last month:
1) Sunglasses
2) Rings -&-
3) Hats
So, I've covered my mania over sunglasses & rings in previous posts — now I have none other left to prove than my preoccupation with HATS! Yippie skippy! Nothing says "Angelika Frangelico's roots are showing" like a good, gleeful hat. Yet, no matter how many weeks of re-growth I have going on up there atop the think tank, I simply love wearing them! Darling Hotbuns always talks about how he looks dreadful in hats and this positively pangs me — I would & could NOT make it! That would be like putting a vat of cookie dough in front of a preschool and telling them they had to have rice cakes for snack time, or parking a Suburban-sized kennel of kittens & puppies in front of my house and asking me not to rescue them all. No! Wait! It's like having a catapult rigged up in the back of your truck right at the moment you have an Andy Dick celebrity siting…… at a stop sign…… with two passengers in ski masks! It would be an impossible life for me if I couldn't wear hats. Impossible, I tell you — this is a world crisis we're talking! Alert the FBI, CIA, all battalions, FEMA, my hairstylist! Seriously, though… They make me warm & gooey on the inside, like a Boston Cream donut. (I think my blood sugar may be low. Let us just pretend it is so as to explain my (*ahem* every day) behavior. #alwaysblameitonamedicalcondition)

These photographs are all I could find in my archives pertaining to my hat fetish. Next time I will be better prepared and flop them all on Hettie Head (<– this is her modeling some marvelous mustache specs at the Ravin' Maven Mall). I have many a-vintage/retro hats of all kinds, shapes, colors, & sizes, but these are more my garden variety, workaday hats — of the non-dressy, out-on-the-town-in-play-clothes sort. For the most part, at least. (*** Note: You can click on the photos to enlarge them if they are too small in this format.)
And laaast, but not least…
Keep calm & (put a) HAT on, Mavens!
~ Angelika Frangelico *Gros bisous*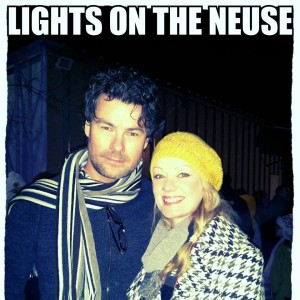 *** I find this photo of me deplorable because I was sick as a dog & cold as an eskimo, so every part of my face was swollen & stuffy, but I'm wearing a hat and my DH is sooo ooo ooo ooo ooo ooo ooo dashing in his scarf! #pant #purr #meow