HAPPY VALENTINE'S DAY, Mavens!!! I hope that everyone is being showered with love, no matter who it's from — lover, sweetheart, children, family, friends, or secret admirer (#hubbahubba)! Cupid visited our humble headquarters in the night and left Mini Maven all kinds of little lovebug tokens of sweetness for my "Loverbuggers Baby". Our extended family all sent lovely valentines with pink & red goodies galore, also. Last night our whole ravin' household went out to dinner at this FAB new joint called Back in the Day Cafe, which was chockablock with wicked funtastic retro artifacts from the 50s through the 90s — it was grand & a real high time! This morning Darling Hotbuns & I attended Mini Maven's Valentine's Day Breakfast & Books Celebration at school (that was a splendiferous way to kick off the day, even though we already started our festivities last night ::beam::). Mini Maven has her Valentines all filled out for her classmates & comrades, as well as some sugary treats & a heartfelt Valentine froggy covered in hearts for her teacher. Darling Hotbuns & I are exchanging lovey-dovey fun stuffs tonight after Mini Maven & I do holiday crafts & make red velvet cupcakes! This is shaping up to be the very BEST Valentine's Day EVER!
So, for all of you dear darlings, I have collected a series of fun vintage Valentine's that signified my kinds of Valentine greetings to you. #smitten I think you'll see why I chose the ones I did, and have a magically delicious day of LOVE, Dollfaces!
You can also see more on the What's Ravin', Maven? Facebook fanpage — I've been posting one a day since February 1st. ::smile::
Keep calm & LOVE on, Mavens!
~ Angelika Frangelico *Gros bisous*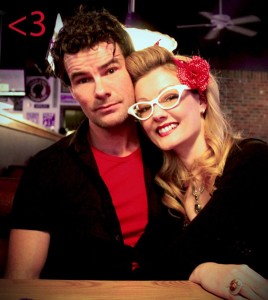 <– Me & my Valentine, ain't love (and he) divine?! Le sigh… #swoony