Yesterday I was talking about the famous Hepburn actresses with another maven on the What's Ravin', Maven? Facebook fanpage. We were discussing how grand they both were, but I mentioned how I have always been a bigger Katherine Hepburn devotee than Audrey. She is the Hepburn I always identified with more of the two. Although, maybe to a fault, because other people identified me the same way at times, and sometimes to my dismay. As girly as I can be, in many regards I am not girly whatsoever. My ex, before Darling Hotbuns, used to call me a "Dude". I couldn't agree less. I may be just like one of the dudes in a cluster of 'em, and *my* place may not be in the kitchen, but I am an all-encompassing lady (*ahem* ladies carry a lot of torches ::giggle::). It's true I can be a bit of a rock-hard bruiser in certain situations & scenarios. Yet, I'm a polka-dotty-dress-wearing, poetry-writing, lovesick little pup in one fashion, but in all other fashions, have strappy & scrappy tendencies for a waifish twig in slingback pumps. ::smirk:: When asking DH what makes him so attracted to me, he always says, "Because you're a really strong woman."
He also says, "A witty woman is a treasure. A witty beauty is a power!" All women are beauties — hear hear to Hotbuns!

This brings me to how this was often times a curse in previous relationships, however. People expected me to be rugged & full-on capable of de/fending for myself, especially emotionally. I brought myself up to be this way, but it isn't how I want it to be in a romance. I wanted a melange of a man — a man who never felt threatened by my zippy backbone, but still stepped in as my valiant suitor and recognized I WANT to be a woman, a very, very gussied up girly woman! I found this man in Darling Hotbuns. He stands beside me… Not in front of me or behind me. He treats me like a lady, but fully embraces & welcomes my masculine side. And most importantly, he never judges me, he loves me for all my grit, guts, AND misgivings, & thinks all aspects of my being are the cat's pajamas. #perfectgentleman He's never made me feel bad for my strong-flavored opinions, my tomboyish passions, my male-dominated labor career paths, my rock-n-roll rebellious approaches to life, or doing the heavy lifting with a perfectly manicured hand. He likes the duel-sided Angelika Frangelico, and makes sure I have equal opportunity to wear the pants AND slip out of them for a skirt. ::grin:: Neither of us believe in gender roles, and yet we're both progressively old school. So add that all together and what do you have? A conundrum! No… ::chortle:: Seriously, he understands me, intellectually, physically & emotionally, and doesn't want to change a thing! He IS me with facial hair, and I am him in a brassiere (well, when I wear one, that is ::simper::). No two people have probably ever brought out the best in one another the way that we do. True story! It's because we're wholly accepted by the other in our own disgustingly blissed out world. We're so cheesy you could spread us on a cracker.
So this conversation with a fabulously fierce Ravin' Maven reminded me of a poem I wrote that was published in my second book, Don't Rub Salt in the Heartbreak. It is about a "woman" who is undeniably dauntless & independent (yet burnt out & disenchanted), but longs for a man who doesn't let this give him permission to get lazy with her inner Lady. It's a reminder to all men who fall in love with courageous women to have the same courage to be her leading man, unyielding & without ego. This woman wants to wear it all, and so she should! Well! We can all pull off anything — everything fits if we want it to, and no one should tell us otherwise. You hear me?! #authentic #genuine #badtothebone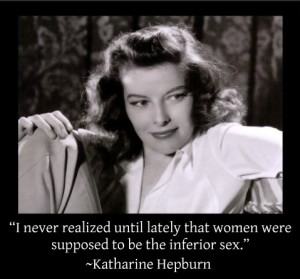 *** *** ***
Tired of Always Being the Same Hepburn
I'm taking off these trademark tryst trousers.
I am tired of wearing the pants for my suitors.
Just once let this fierce independent reminisce about
what it was like to be strapless,
like a classic black cocktail dress.
Tonight I don't want to be daring and fearless —
I want to be suitable enough for charm and elegance.
Take these smarty pants and try 'em on for size.
You may strip me of one dream,
but there's no more room for you where we seam —
I'm not cloud-busting out of you anymore.
Now I want silk organdie spilling to the floor
and an oval train following me out of this door.
This no-nonsense dame
with a disarming candor vein
deserves a little class and glamour
over her slender and boyish figure
that always has to have plucky posture
in her well worn trousers.
So, I've been told, I am loved for my hep wit,
though sometimes strong-willed and hubristic.
I suppose it burns sometimes because…
You say, "You are so wise in thought,
so connected and so beautifully prized,
verbose in your expression of self.
Those things freak me out.
I found them so amazing,
and to this day still do,
and yet, they intimidate me too.
So much so, I never feel like what I have to think, feel, or
say,
is anything you have not realized ten times quicker than I
may."
… All these souls just hanging in the closet
waiting to be worn like a lady-in-waiting
for a silk-stocking leading man.
We all get dressed one leg at a time,
but something tells me you're wearing
appliqué and sateen this season and I'm going to be
the angular dweeb in this tweed tryst…
Well, there is room for graceful movements
underneath the crinoline of a Givenchy gown,
but no aristocratic manners fit in the button-down
of my trademark trousers.
No true lady ever feels anything but bourgeois
when wearing in the slack of strapping slacks.
There is always one leg that wants to be…
edged in ruches and lined in silver silk-thread,
like a busting cloud.
So, unzip this new ideal of woman from your un-genteel
head
and let me fasten the favor of all these hook-and-eyes
in the ballroom,
with the room you left in this dream.
Someone give this skirt…… one.
I'm tired of always being the same Hepburn.
H.A.D. ©2006
Don't Rub Salt in the Heartbreak
Keep calm & RAVE on!
~ Angelika Frangelico *Gros bisous*