I know there's been a lot of recent hype being posted by parents who blog about taking the holidays down a notch because it's just gotten so out of control. In so many regards I do agree, wholeheartedly. I think, mostly, about those less fortunate families who struggle with finances, and then there are such a multitude of demands on all parents via the school events — how children pass around favors, and the parties that require the adults to take off from their jobs or be absent from the festivities (which both cause such immense guilt). I feel for them because I was one of them for the majority of Mini Maven's life. But, I have to admit to being a holidayaholic, even when times were tough. I just love a good excuse to party & be utterly ridiculous! I've ALWAYS loved holidays — all of them — and I can't deny being gaga over Easter. It's just magical to me, and since Mini Maven was knee-high to a grasshopper, I have made it even more magical by giving it an Alice in Wonderland theme. ::grin:: I am mildly enrapt with Alice in Wonderland. Okay, madcap & manic over Alice in Wonderland, fine, you got me. I identify with Alice. Oh, how I identify with Alice! I, more often times than not, sometimes have believed more than 102, 394, 586 impossible things before breakfast.
Since 2003, when Mini Maven was born, we've been doing the SAME annual traditions. It actually wasn't planned when it began, but nothing ever is when it comes to me — whatever simply falls into place becomes steadfast & cemented from that moment forward. You'd think I'd learn my lesson that when I start something it becomes a forever thing! I'm not always good at carrying things through when it comes to mowing the lawn every 2 weeks or changing the water in the fish tank; but for heaven's sakes, Cupcakes, if it pertains to the holidays it sticks like liquid nails! So, our yearly Easter traditions have not faltered for a nanosecond… Every year we have a Mad Hatter's Tea Party where we either go to a teahouse or we have a tea party at home. We eat petit fours, drink Rose Congou tea (my utmost fav!), make scones (we smother in orange marmalade), have more lemon curd than one Sweet Tart could ever handle, and even make Mock Turtle Soup. ::smile:: We do all kinds of arts-n-crafts, dye eggs, bake goodies galore, and go visit the Easter Bunny in the most gussied & prim dresses we can find on a dime. We also have a very elaborate Easter egg hunt in our own backyard, full of treasure hunts & riddles, not unlike after falling down the rabbit hole. All the while hunting for eggs, EVERYONE wears different colored bunny ears (even the MANvens) that match up with the egg colors we're scavenging for. At the very end, there's a "special egg" and that special egg involves another treasure hunt for a "special prize" — a prize that only applies to the EGGstra special person it ends up belonging to. Likewise, there's always a family photo that involves something positively preposterous, like all of us wearing funky, funtastic sunglasses or truly nonsensical wax lips. (Our photo albums are a bloody riot!) And, of course, we always wear sparkletacular bonnets. But, of course!
We celebrate! We celebrate…… LIFE. (And we sometimes have to nudge others into it, but it IS infectious like a, rarely seen, blithesome disease.) It's too darn short, so we take *every* opportunity to spend it living the ever-loving daylights out of it, hopping down the bunny trail like silly rabbits. If you ask me, NOTHING is made for *just* kids. And nothing is going to stop me from being one. Our children breathe new life into us. True. And we are predisposed to breathing old life into them. But every day that I feel good is a day to act young, so I see no point, whatsoever, in letting anything make me stale like an old loaf of bread just because my age increases. I'm a Toys-R-Us lifer! My daughter has never complained. I hope she is too. It makes the other stuff so much easier.
Over the last 6 years, I haven't always been able to make a lot of things consistent for Mini Maven…… other than my unconditional love and being there for her, no matter what came our way. The only other thing I made the same every year was the holidays. I believe in traditions — I think they are something we never forget, hold onto forever, and carry over into our adult life because it's a feeling of comfort, joy, enchantment, pure bliss…… and a constant. A *magic*. Even when things were at the height of their hardest for me being a single mother, I pulled all the strings I had to make sure we never missed a beat on the retreat that is a special, memorable holiday. I just liked that on certain dates out of EVERY year, she never had to question if it would be the same. Sometimes the Easter Bunny filled a basket with love from the Dollar Tree, and our tea parties had to be at home on paper plates, but we never skipped a-one of them. To me, this was very important. When all else failed, I had my imagination. And let me tell you, in toilsome times, darn if that doesn't go a looong way! Sometimes it was honestly all we — *I* — had. What a gift it is.
(And thank the stars above for those GRAND people like this Grandmaven [photographed below] for always arriving to help bring wonder to Wonderland!!!)
So, for this week, I plan to recap on Easters past — a time of light-hearted colors, hippity-hoppity hijinks & high times, and a world of boundless creativity all right there within our child-like think tank. I know I may be mad as a March hare about such trivial things, but I don't care one iota! I spend my one shot on this earth enjoying all the frills I put upon it.
THIS year we're starting a whole new card catalog of traditions that are going to stick like a fly on the windscreen now that we're in a place we're stuck…… oh so joyously & willingly with all our heart. #swoon This is going to be our first *real* Easter in our new lifetime home with Darling Hotbuns, and we couldn't be MORE jazzed! Grandmaven comes in this week, and each day I have an EGGcellent thing on the docket! When she lands, it will be Mini Maven's last day of school before Spring Break, so we're going to head, straightaway, to see the Easter Bunny (every year Mini Maven asks for a chocolate bunny even though her basket is chockablock with loot like a pirate ship!). The following day we have our Mad Hatter's Tea Party planned at a new local teahouse (and the Mad Hatter HIMSELF, as well as Alice, is going to be there!). Then we have a neighborhood egg hunt to go to at the Town Hall in our new neighborhood. The first of many! #EGGcited! Next up, we're partaking in an Easter bonnet contest, along with a festival fully equip with a DJ, games, crafts, and — once again — the Easter Bunny will be there! Lastly, we wake up on Easter morning to see what the Easter Bunny brought, exchange family baskets, go have brunch at Another Broken Egg Cafe (<– how appropriate, eh?!), and have our annual backyard egg hunt around the lake before dying eggs of our own. Easter isn't *just* for Easter anymore, Peeps! We like to drag our celebrations out for almost a whole week — if not the entire month — long!
Believe you me, I know how UNeasy life can be — and how money & time can be so thin — but you can be amazed how much it does NOT take money to create wonders in the life of a child. I should know. I have been actively pursuing those wonders for 38 years. ::winkwink:: I also recognize that the holidays have become a bit of a hullabaloo, but if you are anything like me and like to find the hilarity in life when it can get far too mainstream, I *do* believe it's okay to go a bit overboard and let that one day fly off the handle. I enjoy not having a handle on things once and in a while. I embrace that divergence of rat-race-pace our children don't yet have to know. It adds contrast, and makes the days of plain dye out…… if for just a moment of 102, 394, 586 impossible things to believe before breakfast. #muah!
Keep calm & HOP on, Silly Rabbits!
~Angelika Frangelico *Gros bisous*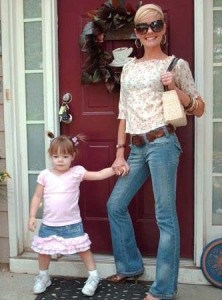 <—- Makin' life more than I deserve since 2003, this EGGStraordinary Mini Me.