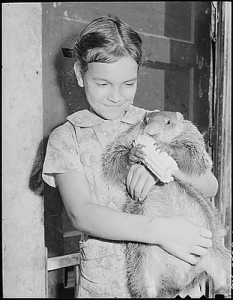 Today is Groundhog Day. Today is the day we find out how many more days of winter we have left to weather. This has been such a mild winter for us in our neck of the woods, so it's hard to fathom that Punxsutawney Phil will see his shadow, but I am a firm believer in Murphy's Law. #stickingtongueout
I am SO ready for winter to end. I am every year. There's not much I like about winter. In fact, I abominate it! I happen to love the look & lines of winter attire, though. I am absolutely sweet on scarfs, gloves, boots & wintry hats, but I am DONE with actual winter by January 1st. As soon as the end-of-the- year festivities are over, *I* am over (the edge, the cabin fever, the chapped lips, the sunless days, and trying not to store up for the winter and hibernate in my goose down comforter cave)! I begin to feel suffocated by my clothes. Layered, thickset frippery can actually make me feel claustrophobic! In any event, there is one article of the winter drapery that I never tire or grow weary of, and that is the winter coat. Heavens to Betsy, I love me a chirpy, coltish coat! I love my bloody coats to bloody death! I wear them so much that I almost always have to get a new coat every year. You'd THINK I lived in Alaska the way I manage to exhaust them, but being a native Floridian, I always say that I have reptilian blood — I am not cut out for the cold, even a city where it only snows about 3 days out of the year. #lightweight(nottobemistakenwithmyouterwear)

Last year I bought a handsome & lovesome houndstooth coat that I ADORED. Mini Maven & I had matching ones, which only made it more winning. ::cherish:: I am an overwrought & excitable sucker for anything houndstooth! If I see it in a thrift store or consignment shop, I can't pass it up. If I do, either my wallet or my heart is depleted. You could also check for a high fever to make sure my brain isn't boiling.
I found this photo on the Internet and it could be me! I have this whole winter set photographed, only circa 2011-13, including a pair of houndstooth rain boots that I love wearing if it's raining out or not — I wear them with anything from jeans to slacks to skirts to dresses. ::grin::
Yet, that beloved coat is truly frowsy now. I hate to part ways with it for how good it's been to me and how much I loved putting it on — I felt like ME in it! But alas, all good things have an expiration date, so I will be saying farewell to it after we find out what Punxsutawney Phil has to say for himself. And even though I don't want to bid it adieu, I have a new coat that I am positively smitten with! Darling Hotbuns surprised me with it this year, as soon as the temperature dropped by just a degree! # luckylady
It's called Not a Cloud in Sight, which I find so appropriate considering my reptilian self erodes without sunshine. I am the antithesis of a vampire. (I praise to the garlic Gods, too, much to my families dismay.) I am just giddy about this coat! It reminds me of Sgt. Pepper's Lonely Hearts Club Band. (Just one more reason for me to waltz around talking in a British accent, like I need any at all.) He ordered it from Mod Cloth, which is one of my favorite shopping sites out there! Nevertheless, I never buy anything from it because it tends to be too pricey for my spending plan. But thank goodness HE did because I have had SO MUCH FUN in this coat this season (and it's no longer available)! It really took the gloom & doom out of drear & icebox winds out like there was not a cloud in sight. It makes me happy as a lark! It says, in a British accent, "I was made for Angelika Frangelico!"
*** My apologies for the photos being so crummy. They were only taken with my camera phone, but they're better than nothing! ***
No matter what the verdict on this Groundhog Day, rock the winter raiment for however much time we have left! I'm rootin' for springy dresses and peek-toe mules, but if I have to live in this charming coat a little longer, I can't complain! Could you?! Check out Mod Cloth for more out-of-sight outerwear because they've got it goin' on! There are many a-sparkletacular pieces out there to suit each and every one of you unique & spiffy Ravin' Mavens. We don't have to be drab just because the weather is!
Keep calm & STYLE on, darlings!
~ Angelika Frangelico *Gros bisous*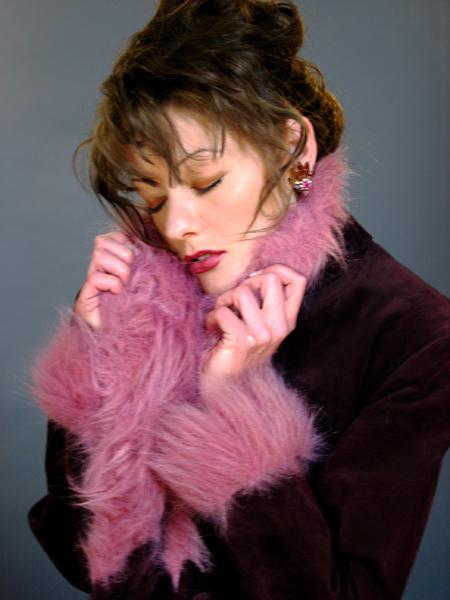 *** <– Speaking of coats… I loved this burgundy suede coat with fuzzy pink fur, too! Especially with those vintage 1930's earrings! ::swoon::
P.S. – A very special & gargantuan JOYEUX ANNIVERSAIRE to my mum TODAY! My very, very favorite groundhog in the cosmos. I wub you galore! XO