Yepsers, you definitely read that right — my new, funky handbag IS foxy indeed! Imagine my shock, surprise, & satisfaction when I opened up a box and saw this with my name on it! (<– See to your left! Yes, that's your left. Your pointer finger & thumb make an "L". Helps me remember, too. ::snort::)
Let me formerly introduce you…
Ravin' Mavens, meet Foxy Brown's Sista! I'd have Foxy Brown's Sista meet you, too, but you're not getting her — she's MINE! Allllllll mine. (However, I believe you can still purchase Foxy Brown! "That's my sister, baby, and she's a whole lotta woman." – Foxy Brown)
One of the ginchy things about this Mama Maven gig is that I get goodies! This is my very *first* product review & endorsement to be featured on What's Ravin', Maven?, and HOT TODDY, I made out like Belle Starr the Bandit Queen! ::thud::
Sooo, this whiz-bang bag comes from Vintage Pheasant, where their motto is: Whoever Has the Most Rhinestones Wins! This brand-spankin'-new independent, startup business is based out of Indiana AND Nashville, TN. The owner/founder & creative mastermind behind Vintage Pheasant, Cris Scott, brings oh-SO much personality to upcycled purses of all sparkletacular sorts (handbags, totes, satchels, evening bags, clutches, hobo bags, saddles, you name it!) & brands, alike (Betsy Johnson, Guess, Louis Vuitton, lots of vintage bags, and even vintage camera cases converted into purses!). Miss Cris takes vintage & gently used purses and bedecks them in, what she refers to as, BLANG! She's not foolin' — these bags are so jazzy-snazzy after she emblazes them with jewels, rhinestone trimming, various different themed charms, silk flowers, vintage broaches, skeleton keys, pearls, leather, fleur de lis, and she positively raaaves (appropriate(ly)) about Swarovski crystals! But, we can't forget the Vintage Pheasant signature smooth move…… pheasant feathers. Well, of course! Whattle you know… #i'msocheesyyoucouldspreadmeonacracker
But here's what REALLY gives a Vintage Pheasant bag (a) personality… Owner, Cris Scott, names them all! Every one of her adorned array (that she refers to as "Girls", "Gals", & "Her Lovelies") are each given a very specific name to compliment its sass & charm. Here's just to name a few:
~ Blonde Bombshell
~ Rock Star
~ Bless Your Heart
~ Little Miss
~ Paparazzi
~ Audrey Hepburn
~ Black Betty
~ Purple Rain
~ Breakfast at Tiffanys
and many, many more!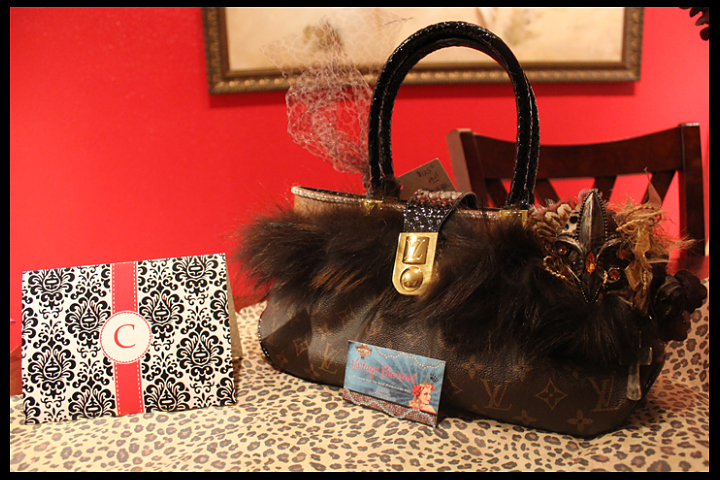 When I got my delivery from Vintage Pheasant, I was like a little girl in Mr. Magorium's Wonder Emporium  — I heard the delivery man shout, "Package!", and I bolted off the couch like a cat with an urgent appointment in another room. Pa-ching! The box was suited up in it's unique, retro Vintage Pheasant  return address logo, so I knew instantly I was in for a treat. Once opened, I received a lovely enveloped letter from the owner that said,
Angelika Frangelico,
          Your upcycled lovely has arrived! Foxy Brown's Sista is guaranteed to bring a smile to your face, as well as looks from other fashionistas! Much love to you for rockin' this one of a kind bag! Wishing you happiness and all kinds of sass. Thank you for being a VP!
          Vintage Pheasant 
Ooh! And before I forget… As soon as you purchase a Vintage Pheasant bag, you become a "VP" for life. How cute is that? It doesn't mean anything accept that you're now in some little club of other stellar broads with supreme taste, but I just think that's clever. #savvydamesrule And, what's more, when you get your originally festooned VP bag, it comes with business cards so that when people say, "My, that's a mighty smart-lookin' bag you got there! Might I ask you where you got it?" (alright, I might like to pretend I live in Mayberry when I do inner dialogue while writing, sometimes), you don't even need to get into an in-depth conversation in the post office line when you're doing everything you can not to GO postal. Simple as that, reach into the side pocket of your purse and pull out a comely card like this one: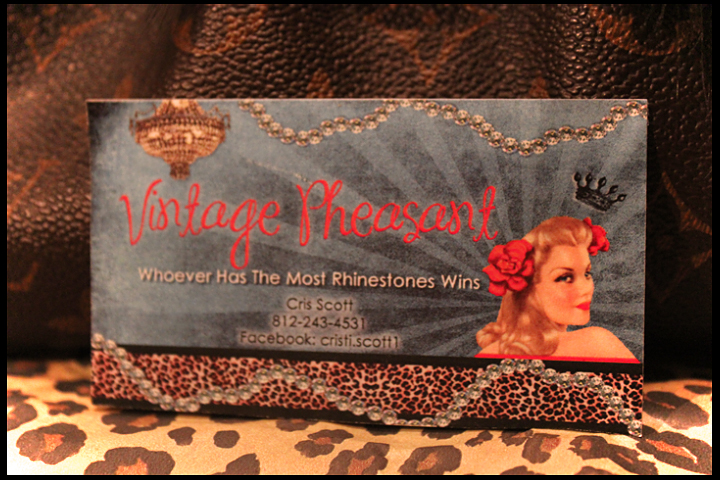 And when I opened my magic box, my new "gal" was all fancied up in retro leopard print paper. She also had a VP tag hanging from the back of the purse and it was tied on with animal print tulle. It's the little touches, but I pay attention to 'em. That's my job. DO wear it out! (Please, by all means, this is fashion we're here to talk about. Wear it and wear it WELL.)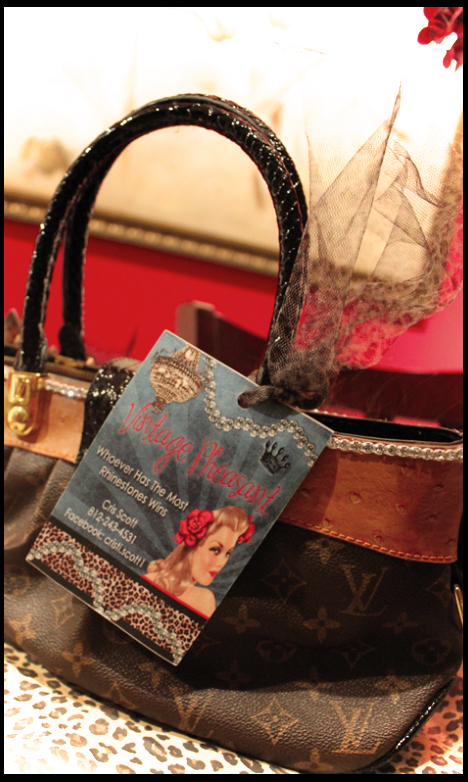 But all this chatter about business… LET'S TALK ABOUT MY NEW VP, ALREADY!
Foxy Brown's Sista is an actual gently-loved, authentic Louis Vuitton satchel style handbag. She is embellished in florid additions such as a rich, cherry chocolate faux fur with glints of bronze strands, a baroque, gilded fleur de lis, silky trimmings, rhinestone rim, a hammered metal cross with a dazzling crystal, and, but of course, none other than pheasant feathers. As advertised, "This bag is only for the cool people!" Well, shucks… ::kicksdirtbashfullywhileblushing::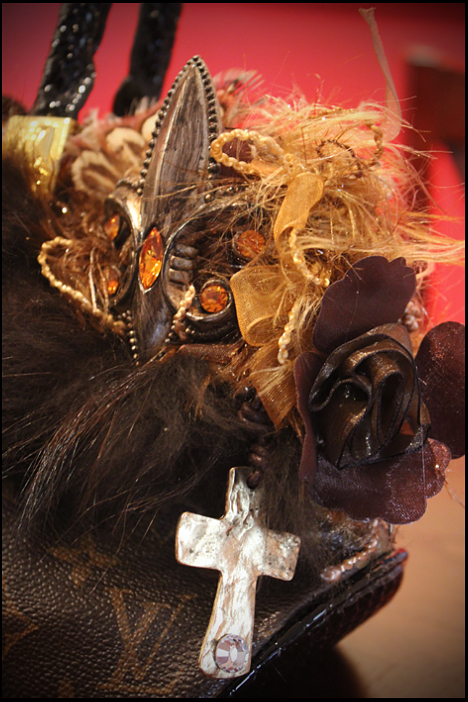 But no, seriously, this bag retailed at $125 — how cool could I possibly be to deserve this (even if I am advertising for them)? Really?! Thank you, Easter Bunny! Oops, I mean, Vintage Pheasant!
As you can tell, I have to be excited about this new, independent & creative biz because I have never used so many exclamation points in my life (and that's sayin' MUCH since I am always chipper!!! & jolly!!!).
Vintage Pheasant has one and only, matchless bags starting at $230, but they also carry super chichi chic bags as affordable as $35. VP will also create new, one of a kind bags based off an already garnished VP bag of your liking. They will hunt down vintage & upcycled styles that appeal to your style, as well as wake up one of your previously owned beat & bored bags — they will bring a purse from a dead season back to life with a fresh face. How überkeen jellybean is that?! It's that whole metamorphosis thang — the creative, Cris, is the pupa, and when she's done with the caterpillar, she sets free a butterfly that matches any pair of shoes you own.
And here's an added dollop of delish news… VP is now starting to do COWBOY BOOTS! Well, yippie ki-yay, Mother Hubbard! And check this… Homegirl Cowgirl, Miss Cris, is sending me — little ole newly startin' out me — some of my own boot scootin' boogie, "bad ass" cornerkickers! (She said it, not me! But as Bad @$$ as this bag is, I might have to refer to the boots as s#!tkickers instead!)
VP is currently just a Facebook store. Within just a short span of time, business has been picking up at breakneck speed! I think in due time there will an official website & an Etsy store, as well. They also have many vintage boutiques carrying displays of their bags, like Modern Charm & Three French Hens, for example. Not to mention the fact that VP has "VP members" all over the U.S. now! If you see a bag you like on their Facebook store, grab it before it goes to another upcycling home! Also, make sure to spread the word like kudzu, because something tells me the VP trend is going to grow rapidly.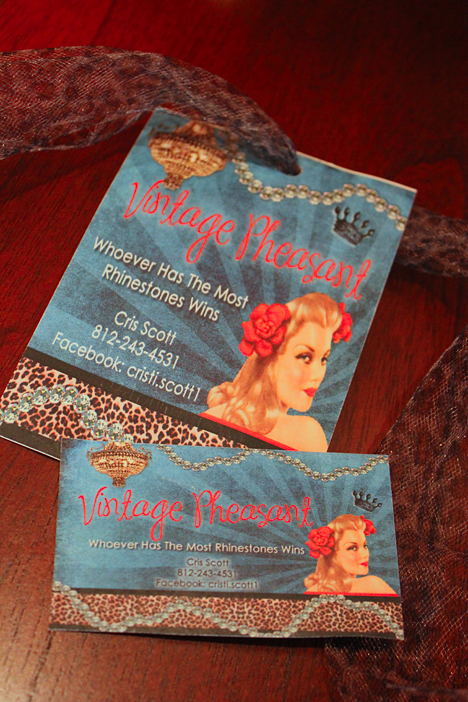 I know you can probably read the Vintage Pheasants information above on their tag, but just in case your spectacles are a little foggy today:
Vintage Pheasant 
Owner/Founder: Cris Scott
# — 812. 243. 4531
Facebook: VintagePheasant
(***The Facebook on her card is no longer correct)
*** *** *** *** *** *** *** ***
Now excuse me while I go lay out something for me to wear this weekend, 'cause I'm takin' Foxy out on the town to paint it fab!
Keep calm & rave on, Mavens.
~ Angelika Frangelico *Gros bisous*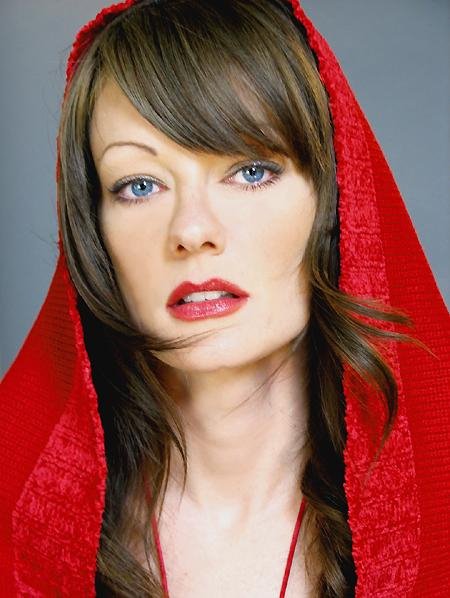 *** Please note that you can enlarge the photos by clicking on them. And feel free to share them via What's Ravin', Maven?! You can also click on the links that are in red — they will take you directly to the reference. T.G.I.F., darlings! [All photos done by Angelika Frangelico]