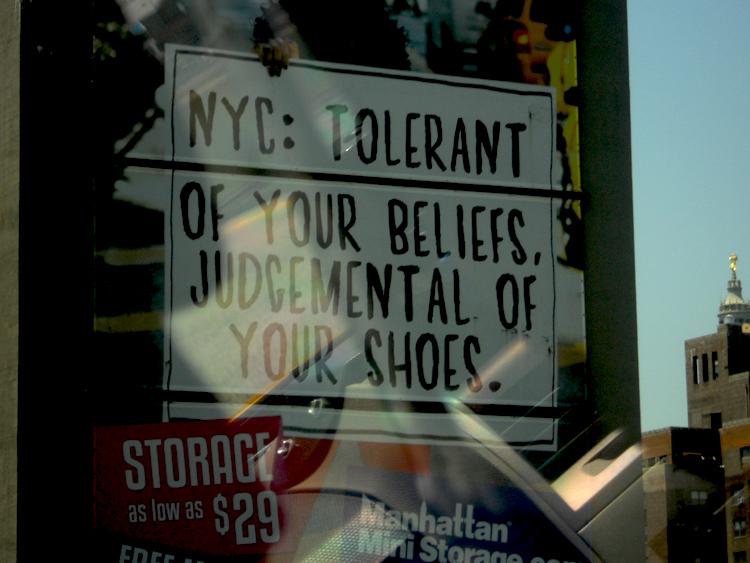 Over the summer of 2011, Darling Hotbuns (DH) and myself went on 3 vacations, each of which where FUNtastic road trip adventures. We went to 6 different states, and Good Lord Byron only knows how many cities (the Mini Maven was visiting her Nana in Florida)! We went to Hershey & Kennett Square (Pennsylvania), Burlington (Vermont), Boston (Massachusetts), Cape Hatteras (North Carolina), Indianapolis & Clinton (Indiana), AND NYC!!! I, hopeless fashion victim, Angelika Frangelico, had never been to the Big Apple! I do declare, that is one of the most nonsensical things I've ever seen myself type! (<– That's pretty harebrained in itself, considering this is MOI we're talking about.) Going to New York was on my bucket list, so DH  made sure I got to scribble that one out on our first road travels together. If I kick the bucket tomorrow, I at least kicked that bucket over, emptying out whatever lame stuff was in there, and filled it up with museums, cabs, Michelin restaurants, off Broadway shows, carriages, pigeons, Central Park, and faaabulous shoes! I'd now be able to say, "Au revoir, Manhattan, it was nice knowing you!"
(*** We also stopped in many other cities & states, along the way, to eat. We all know by now that I am not a health food nut. In fact, I love me a good greasy spoon! Therefore DH & I mapped them out along the way and hit every diner or Ma & Pa type joint we could find on our route. Hot beaver dam, that was delicious! Our blood's a little thicker for it, but we had some tasty chow to wash it down with.)
I think I have made it no secret how much I love sundresses! Short, playful, & strapless…… even better! With the exception of a couple pairs of jeans & tank tops, I brought nothing but summery dresses in perky patterns on our jaunts around the East Coast, Midwest, & New England area. This was perfect for comfort AND the heat — it was one hot crazy summer, for sure!
On our one full day in the city, we were BUSY buzzy bees! When I say busy, I mean that we managed to have brunch at 121 Fulton Street in the Financial District with my beauteous bizzle, DEElicious, then go to the World Trade Center before walking to Ripley's Believe It or Not. After that, we poured over Madame Tussauds for a couple hours before we hailed a pedicab back to the Helmsley Park Lane Hotel (where we were staying, directly across the street from Central Park!) to freshen & gussy up before cabbing it to the Astor Place Theatre to see The Blue Man Group. I LOVE THE BLUE MAN GROUP! After that, we went to dinner near the theatre and then grabbed a cocktail at Whiskey Park — this is where I discovered my moonstruck mad love for a Coconut Basil Gimlet (have mercy!). This was just our full day! We had two half days, as well! We know how to GO, GO, GO — like an Inspector Gadget arm!
So, seeing as how bustling & zealous we were, it was a no-brainer that I needed to dress for comfort & agility. Withal, I also needed to look fierce — this is fashion-forward NYC we're talkin' about! I couldn't walk around Times Square in stodgy duds just because I wanted to make the most of our time spent. So I turned to cute & classic, but loose & untroubled. Right before we took off for our first road trip, DH surprised me with a delectable, DARLING polka dot, above the knee, halter dress in navy & white. I absotively ADORE this little number! Believe this one or not, he got it at Hollister Co.! Me wearing Hollister?! I thought that was only for 17 year old surfers with flippy Bieber hair! I never would've dreamt, but I was wrong — you have to be selective, but they have some really spiffy little made-to-be-with-accessory retro garments. [Ya] Learn something new every day! Then I paired it with a pair of very basic, patent beige, wedged heels that I got from (take a deep breath and hold it…) Payless. Oh my… I've never owned a more comfortable pair of shoes in my life. If I had known, I would have bought every pair they had in my size so that I never went without them again. I'd never have to be one of those city women who keep a pair of track shoes in her purse and switch out on the subway. Now, add to that the accessories: a stark white sunhat, my signature chunky rings, 2 plastic white retro arm bracelets, and Bath & Body Works glittered body spray (<– that's my summer scent) and I was done for the day. Simple. As. 123! I'm in NEW YORK CITY and, even so, people complimented the whole look, left, right, sideways, and in somersaults. ::twirl::
This entire outfit cost about $85. I have worn that dress probably 85 times, the hat 85 times, and the shoes 85,000 times. Do the math on that (no, seriously, please, I damn math and worship calculators), those clothing pieces now owe ME cash! So, here are some photographs of our blithesome, buzzing day in the Big Apple… Regrettably, I only have one photograph on my MACbook that is a full body shot of the aforesaid outfit. Sorry, Ravin' Mavens! I didn't know this website was going to exist for us, then!
Tootles for now, Toots! Time to go to dinner with the DH & Mini Maven before our guests arrive for a game of Nightfall.
Keep calm & rave on, Mavens!
~ Angelika Frangelico *Gros bisous*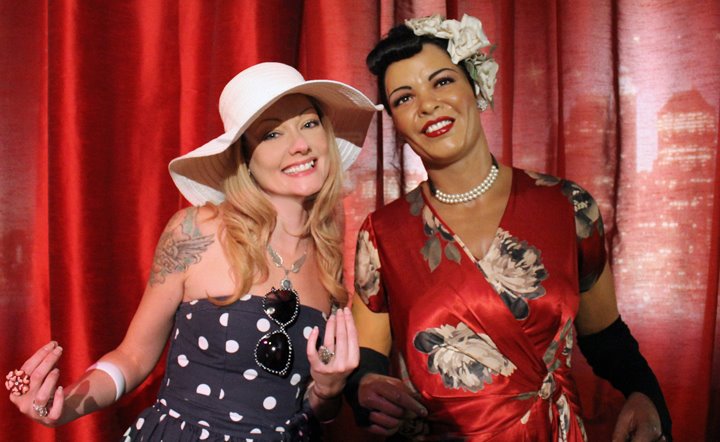 *** Don't forget to join us on Facebook & Twitter!