When I wrote the polka dot dress post Ravin' in the City (With MY Mr. Big Stuff), I spoke about how Darling Hotbuns & I went on 3 road trip vacations this past summer. The last one was to Indianapolis, Indiana where we attended Gen Con, a 4 day convention for tabletop gamers. That's right, my DH is not only smart, sexy, silly, smoldering, sensuous & successful, but he is also an utter GEEK. I am telling you what, I hit the lottery when I met this man who was designed by some sort of dynamite deity who tailor-made him JUST for me! But anyway, Gen Con is one of the most mondo annual gaming conventions in the country. It's a big deal — well over 40,000 attendees come through the convention center in Indy every year! It appeals to all kinds of gamers — board gamers, card-style gamers, live action role-playing gamers, strategy gamers, miniature wargames, and muuuch more. There are all kinds of tournaments & game sessions being held everywhere, all of the time, as well as shopping & sightseeing in the exhibit hall, not to mention entertainment & seminars, and LOTS of Cosplay. There's something there for everyone! Even the non-gamer like me. I don't game, but I geek. Very well.
However, this was my very first time attending Gen Con. I did NOT participate in Cosplay this time around. You're thunderstruck, I know — EVERYONE was — but, Gen Con 2013, LOOK OUT! There are 203 days until then, but I'm already planning out my outfits: Yuki Nagato Lolita, Vampire Knight Cross Academy (Night Class Girl Uniform), K-On! Mio Akiyama & Shakugan No Shana. Mainly this is because I will wear these outfits again, as street clothes, so they are not a superfluous purchase. (Originally I was planning, Leeloo from the 5th Element, Jen Blood, Pris from Bladerunner (Bon Anniversaire to Batty today, by the way!), & Wonder Woman! <– All former Halloween costumes of mine, but not only would that be a one-time expense (because I don't have them anymore), but I don't think I can get my bum in THAT good of shape by summer. I want to be invited back for 2014! DH assures me that I can pull them all off, but I am no spring chicken! Even if I refuse to grow up & adore my Peter Pan complex, I still must admit that I am not MANdonna and don't have bulletproof buns you can chop a 2×4 board on anymore.
Oh, and we can't forget Darth…! I don't typically laugh and snigger around evil overlords, but this one was in good spirits that day.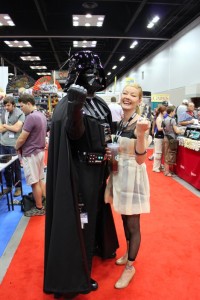 Even without being in Cosplay, and being in my usual street wear, people were still coming up and asking to photograph me thinking I *was* in dress-up! I can thank DH AND Light in the Box for that. ::lookdelighted:: Just a month or two before Gen Con, Darling Hotbuns hacked my Pinterest account — and yes, I mean hacked. I made a point to make it private and not give him any clues as to how to find it. He has a tendency to spoil me with random, "just because" surprises. I LOVE this, of course, but he also doesn't think the cost of most things are outlandish, as I do. I only pin "inspirations", not things I think appropriate to buy. For me, I use it to inspire myself to find more affordable versions of things that I find eye-catching & fetching…… things to replicate/remake. Well, as I mentioned, he's a geek, and he's also a computer genius & guru (not that it takes someone from the Pentagon to break into Pinterest, but…). I should've known there's no way to get anything past him, especially if he's on a mission, then the man will stop at nothing! So, he ordered me 4 dresses I had been pinning & pining over. ::swoon:: All 4 of them came from Light in a Box, which — in keeping with the Asian cosplay theme I am going for this upcoming summer — is an Asian-based company (only China, not Japan). Most of their pieces are made by Three Seasons. Their attire is not made like American clothing. The fabrics are heavier & a tighter knit. Everything comes lined, and sizing is probably truer to authentic size than American sizing (which fancies making a true size medium a pretend size small to flatter buyers). My XS dresses are a perfectly snug fit, so they fit juuust right. However, I like to EAT, so after a typical Angelika Frangelico meal, the buttons start to push to maximum capacity, threatening the seams like a water balloon. Next time I will go one size up so I can continue to supersize my #3 combo with a jumbo un-sweet tea.  If you have any doubts, here's the sampler we ordered the first night we got into the JW Marriott (which is connected to the convention center):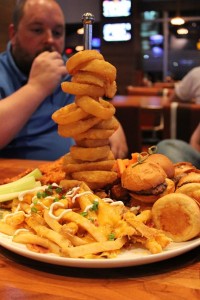 And also, here is an example of REAL Cosplay that I took of this FABU, lovely Ravin' Maven at Gen Con 2012, for point of reference: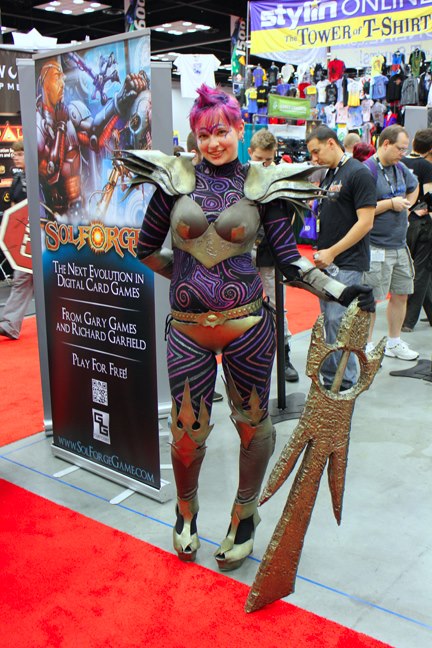 Nevertheless, it didn't stop me from playing dress-up while I WAS there! This is a sparkletacularly goofball photo that DH took of me while I was trying on hats in the exhibit hall. I turned around to blow him a kiss, and he caught me on camera, the little sneak!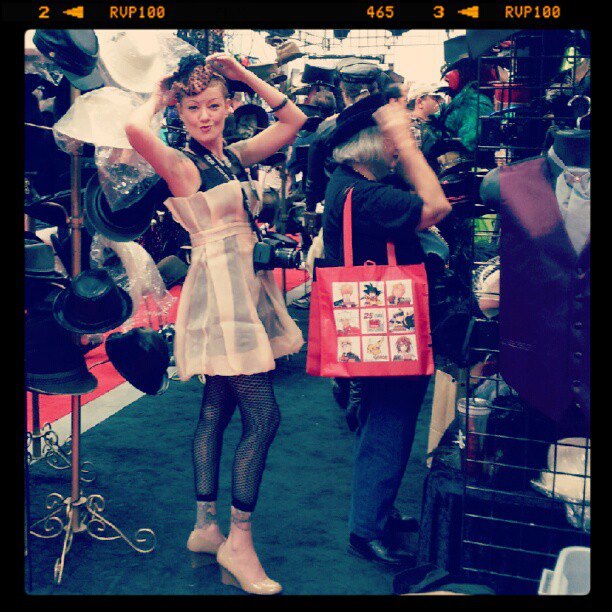 And completely unrelated to being a Retro Chic Geek, check out these wicked cool Skeksi-esche rings we tried on in the exhibitor hall, too! #awesomesauce — We're Skeksi & we know it!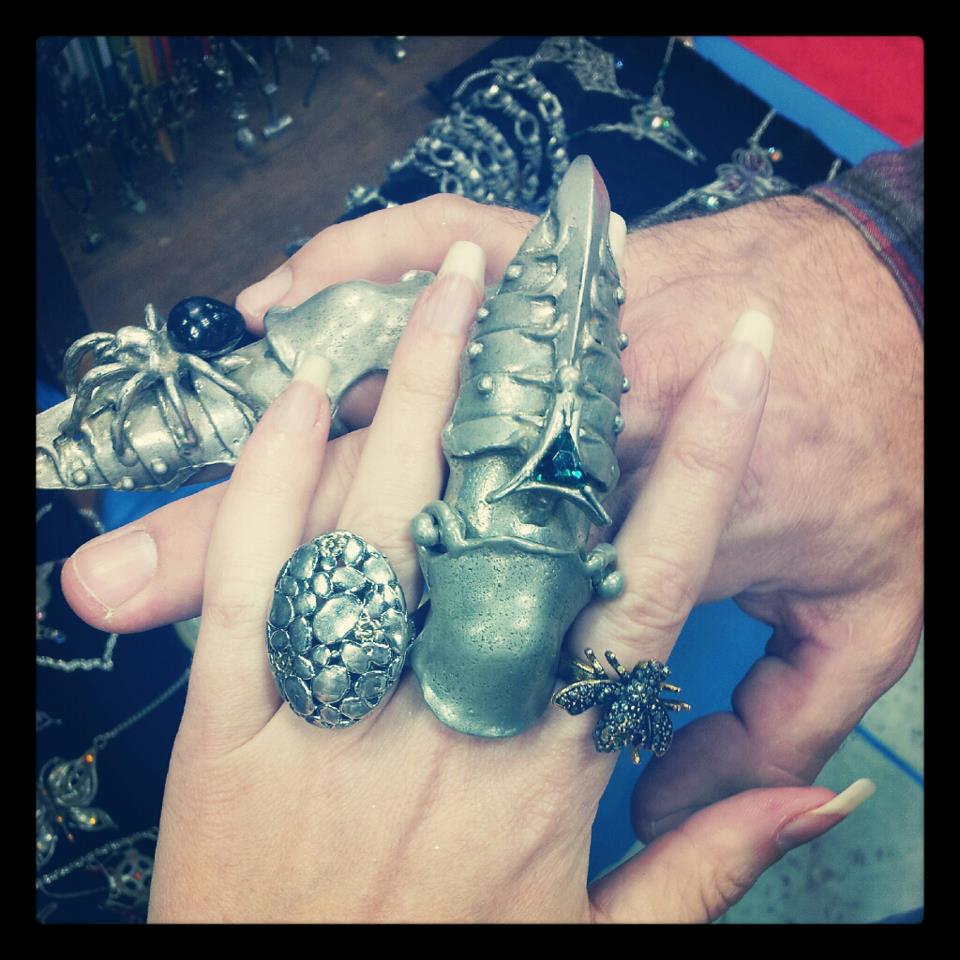 Keep calm & CON on, D&D darlings!
~ Angelika Frangelico *Gros bisous*