Our whole little household has been a bit under the weather this week with head & chest colds. I've always said that February is the most brutal month. I am NOT a winter person. I grew up in Florida where we wear flip-flops and tank tops to Christmas dinner. Whenever winter comes around, there's that Winter Wonderland magic that happens for a brief stint, based on never knowing it until my late 20s, but the bottom line is that it is not even second nature to me — it is simply NOT in my nature at all! When I start bemoaning, bewailing, & carping on and on about the cold temps and gray drear, I always say the same thing, "I have reptilian blood." All native Floridians feel this way. If I were an iguana, I would be falling out of a tree and be kicking a bucket right now.

Henceforth, come February, I am hanging on by a thread. Not even a thread… A fringed & frayed microscopic piece of flax. The cabin fever in my throe is at that place that makes your blood boil to delusional. I suddenly want to shed the layers of textile like a snake. It's not a pretty scene by ANY means. ::grouse:: So, on top of being tapped out over the temps, and sitting here waiting for spring to spring, we have all been ill also. Not an attractive combination! Even Darling Hotbuns, who was born & raised in Vermont, has been on tenterhooks waiting for a warm spell to blow in. We're DONE in, and I'm pretty sure that when we hit a consistent 80 degrees, I will burn these hoodies and do a ceremonial death dance around the blaze. ::smirk:: I don't EVER want to see them again! Blasted straightjackets!
So, as we've sat here this week  fighting the winter fidget & doldrums — and in my case, I've had the song by Yaz, Winter Kills, playing over & over like a broken record — we decided tonight to take a drive through the brand-new neighborhood. What a perfect idea, because now we're bouncing off the walls like Neff balls! Even though it is still chilly, the sun was shining & everything was scintillating & shimmering outside this afternoon after Mini Maven got out of school. We took a drive all over our new neck of woods and it sent our spirits in a soar & silly uproar — Saturday (the day we get the keys to our new house) is just 3 days away!!!
You KNOW those next 3 days are going to go like molasses through an hourglass. #impatientfoottap
But, notwithstanding, we're still reminiscing about all the high times & hijinks that went on in this condo we've called home & headquarters for the last year, so just as I did yesterday, here are some more photos of what we're leaving behind. Good times… GOOD times…! But the more we troll the new 'hood, the more we detach ourselves from the soon-to-be behind us. Now we're looking 100% forward…… to SPRINGing up out of here!
So today I am going to post photos of our washrooms. #fun #yet #peculiar What's amusing is that we didn't think we were going to find a home so quick, so we *just* redid our master bath all of a few weeks ago. ::chortle:: Beforehand, it was a mishmash, melange of madness. I had some of my lunch boxes in there (a Betty Page one & one of the artist Olivia)… DH had some of his Mik'maq Indian memorabilia… and just about anything else we never found a "home" for. ::grin:: Now, after the redo, we're MOVING. Murphy, your law is tried & true, you silly dog you!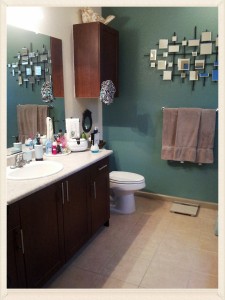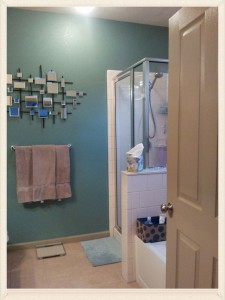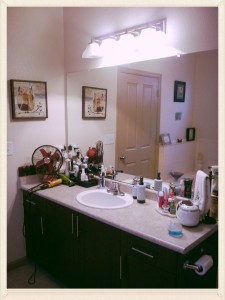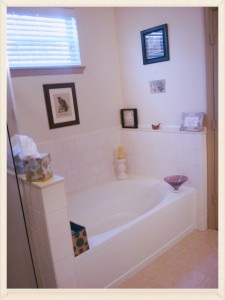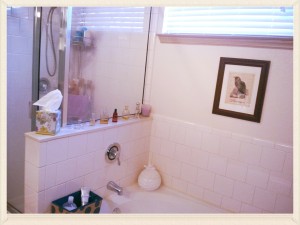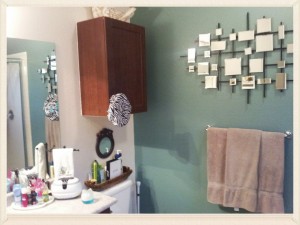 And Mini Maven's rockstar bathroom… #retro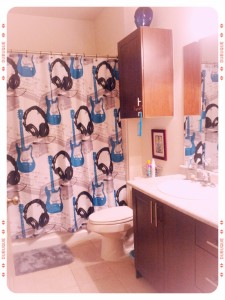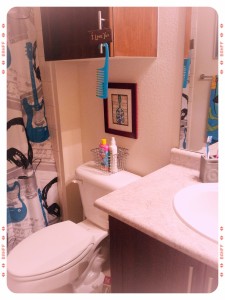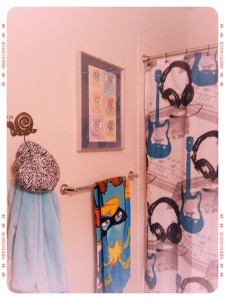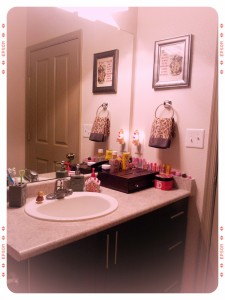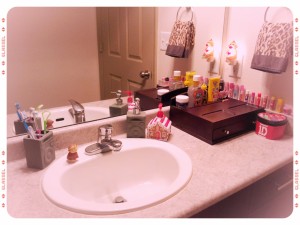 *** To see these photos larger, just click on them. Then you can see that as much as my Peppermint Patty (aka: Mini Maven) is a tomboy, she's also a Tomboy Princess with her lip gloss collection. ::winkwink:: ***
Keep calm & RAVE on, Mavens!
~ Angelika Frangelico *Gros Bisous*