As most of you know, we have bought a new home. We are SO hopped up! This Saturday we get the keys and will be free to start painting, mild renovations, and moving ourselves over. We have just a couple days under a month to do so. SOOO thrilling! And busy. We're going to be some seriously busy, buzzy bees until April 1st (and after with all the decorating & furnishing)! Whoosh.
With that said, leaving our condo is going to be bittersweet. When we moved in, we knew it was temporary, but we were thinking we'd be in this place for at *least* 2 years, possibly 3. So we definitely moved in and made it home. As elated as I am about moving into the new Charleston-style lifetime digs, I have truly LOVED living in our current abode. It has been fun, and I've enjoyed waking up every day in this little safe haven. #sentimental The only real reason we started looking for a lifetime home as soon as we did is that we wanted Mini Maven to have more children in the neighborhood — this 'hood is mostly young professionals in their early 30s. But it has been one stellar year living here! I can't express how sparkletacular it has been, earnestly. It went so quick, but so much life happened within these walls. I'm NEVER going to forget this place — our WHOLE lives changed in the best possible ways. Here. We're heading off to start new memories, writing new chapters to this love story, but so many wonderful ones started when we called this condo ours. #squishsquish
Sooo before we start to pack up endless boxes of our belongings, and rent that moving truck, I've been taking photos for our life scrapbook. I'm a ridiculously sentimental person — and I chronicle EVERYTHING through photographs (much to most of my friends dismay ::snicker::) — so before we pull the blinds & shut the door behind us, I am going to share the Ravin' Maven Headquarters in which everything was born. #gushiness
I'm waving goodbye to our kitchen & dining room in this blog post. I hear my favorite song Lilies by The Cranes as I say this, "Goodbye, goodbye, I'll miss you…"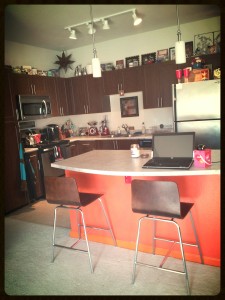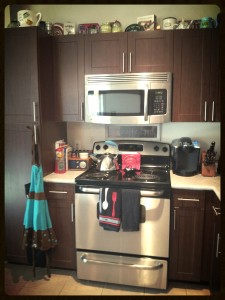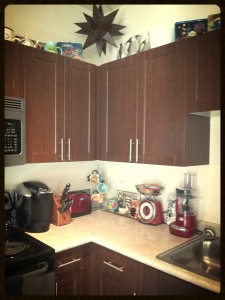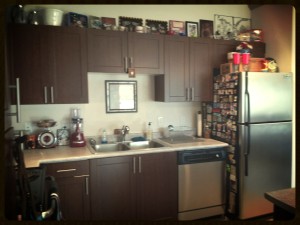 Dining room…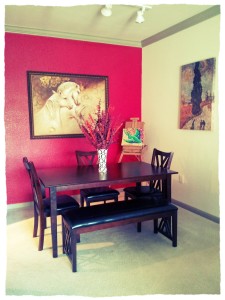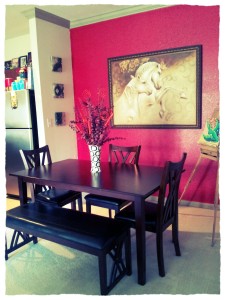 *** These are only phone photos. You can click on each one to enlarge them. I will post the pictures I've taken with my Canon on the Facebook fanpage someday. (Or so I say… Promises, promises… It's going to be a super craaazy couple months. I have the memory of a goldfish.) ***
Keep calm & NEST on!
~ Angelika Frangelico *Gros bisous*