Perhaps the most merry & zippy thing you have to play with, and accessorize with, is your hair. And if you *really* want to replicate the retro look, that's truly the best place to start. It might just be the most convincing of all the elements in turning out the retro or rockabilly look. I, personally, LOVE rockin' the pin curls, finger waves, & Atomic rolls. Having groovy retro hair seals the look like rubber cement (and sometimes you need enough Aqua Net that it feels like you used it!). It can be quite time-consuming when you're first trying to perfect these hair styles, but once you get the knack of it, it's easy breezy lemon squeezy! I can throw up Atomic Rolls in my sleep (and I sleep like a blasted cadaver).

Despite the contrary, just a simple, stately, and, yet, understated updo can make a whopping statement! I do fancy long, flow-y hair, and sometimes I am just in the mood to let it go wild like a banshee, but most of the time I prefer a very polished look where the hair goes in one fluid motion, silky & smooth. I'm a bit of a freak like that, at times, and tend to put my hair in place, as if each strand is an unruly teenager that's in need of supreme supervision. And if given the choice, I love to have my hair all pinned up — it's just clean, fresh, & recherché. All the time I spent modeling & dancing, I was taught: "Take the hair away from your face. We want to see your features (modeling)/expressions (dance)." In dancing (specifically ballet & contemporary), it was drilled into us that hair that was not secure & snug to the scalp, and out of the way, was "sloppy". I do believe I carry this mentality with me, still, but I also find elegance trumps sexiness. I play — HARD — in my casual day to day life, but when I am out on the town or doing something beau monde, I favor grace. "Hot" has never been my bag. I am built like a prepubescent boy, and I break out in a rash when I see spandex or lycra dresses. (No matter how smart, successful, schooled, or sparkletacular you are, if you're wearing something "stretchy" that adheres to your body like a barnacle, there will still be someone out there who will mistaken you for a woman of the evening. A certain kind of dress can dumb you down just dangling from your hanger. It may be unfair, but it is just the truth, darlings. Elastane is not your friend unless you're standing at the barre doing demi-pliés or Touring de France. ::snicker::) But, as always, I've zigzagged off from the topic of stylized hair…! #ninnyhammer
Here are some positively lovely vintage/retro-inspired updos coming out of His Scissors Hair Salon in Gainesville, Florida. Owner, Mary Park-Smith, has a team of marvelous & talented stylists who have a LOT of fun & imagination. They really think outside the box, and are bold & daring, but they are also full of fantastic tricks for weddings, proms, black tie affairs, you name it! These people know & LOVE hair — live it & breathe it like oxygen. They view their client's head as a canvas. If you imagine it, they can create it! (These photographs are only their spin on the classic updo, but I urge you to check out their other work on their website. A1!)
And two more fun summery, retro updos! I adore these smashing splashes of color — they pop & POW! I once had that same yellow. It was called Go Bananas. It was suuuper lively — it practically screamed at you! And the best part was that I never had to use a toner to take down the brass. ::teehee::
Célébrez l'élégance et la grâce! ::sourire::
That, that, thaaat's all, folks! Have a wondrously Whacky Wednesday, and as Miss Mary Park-Smith would probably say…
Keep calm & PARTY UP UP UPDO on!
~ Angelika Frangelico *Gros bisous*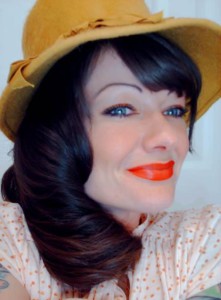 *** Scissors Hair Salon is located at 411 SW 2nd Avenue, Gainesville, Florida. You can contact them at 352-378-0231 — their e-mail is: scissorx@cox.net & you can follow them on Facebook, as well (facebook.com/scissorssalon). Check them out even if you're not in the area — lots of cool ideas to consider!