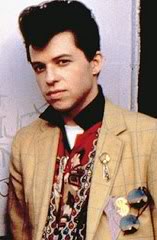 My resplendent & dazzling little cousin (who I call Abbi Doodles) reminded me that it is almost Prom Season! She requested that I share some of my ideas on dresses, flowers, & romantic dinner options. Well, I plan to tackle some groovy vintage dresses that I would absotively slaver over for all of you! When she brought this up to me, I INSTANTLY transformed into the Angelika Frangelico version of Iona from Pretty in Pink. My girl crush on Annie Potts was born as soon as I saw that flick. That movie spoke to me on multiple levels — I saw a tidbit of myself in Iona, Andie, & *especially* Duckie. Ohhh, Duckie. ::swoon:: How could anyone be irked by such a 24-carat friend in scuffed up creepers & one of the most ace ducktails reincarnated into the 80's?! Me and my primo pal, Haystack (stick with me long enough, and absolutely every one of you will have a nickname), always say, "There are two kinds of people in this world: Those who identify with Duckie & those who don't. And anyone who doesn't identify with the Duckman is someone I don't really care to know." #softspot So, I am sure you can guess where THIS is going…!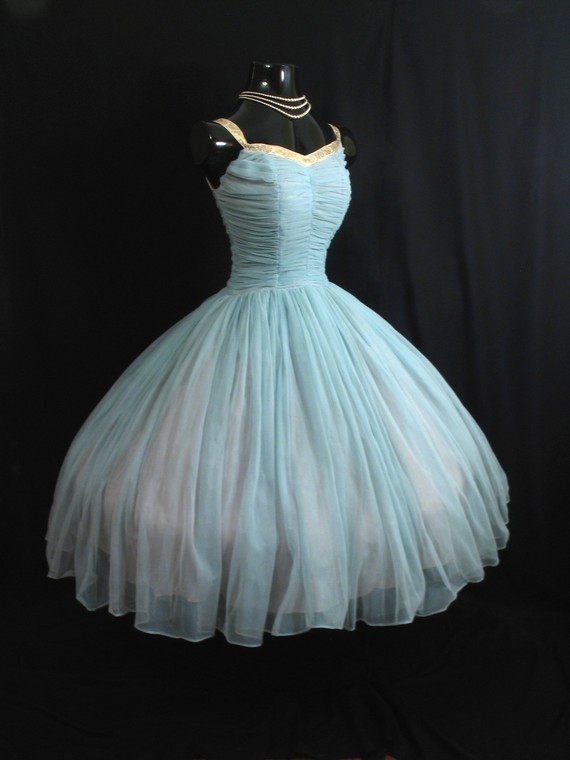 If I were still of going-to-prom age NOW, I would L <3 V E to wear a 1950's vintage ballerina dress like this! The sheer light blue over the white full skirt is so delicate & understated that it makes a big statement! I also adore the cream-colored lace trimming at the bust and for the straps. I am really into all various shades of blue paired with all various shades of beiges & browns, right now. That is the color scheme of DH & I's bedroom (a dusty, aged blue with dark espresso browns & satiny beiges — it's very serene for a master suite, but it's simultaneously masculine). This finespun little beauty is short & sweet. I would actually wear this with off white tights and European pink medium shank pointe shoes with gauzy blue satin ribbons. Kill me now, that'd be so breathtaking! A homemade flip forehead tiara (in rhinestones) that comes to a point between your brow would make this ensemble even more enchanting — like Lili's, from Legend, intense widow's peak.
*** *** ***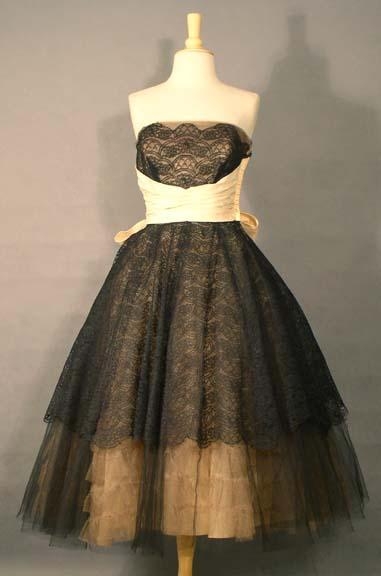 Here's another winsome dress! It is also a short 1950's little gown. I am a fan of strapless bodices, but the extra wide wrap of a cumberbun is really what catches my eye and grabs me, from first sight — it's eye-catching! The multi-layers of lace and tulle are absolutely fetching (!), but it also makes a vintage piece look fresh & modern all at once. Just like blue and beige, I also find black & beige to be very alluring. I would wear nude lycra sheer thigh highs with a seam & a matching nude & lace garter skirt. I'd find some versatile black satin peek-toe pumps and embellish them with a beige vintage flower or a vintage topaz broach (there's nothing a glue gun can't turn from drab to fab!). The school I graduated from was called Old Skool  (I wish it had happened freshman year instead of that horrifying monstrosity I just HAD to have). I feel like glamourous gowns deserve a glamourous updo. The former ballerina in me sees long, flowy hair as sultry & seductive. A dress like this requires some fabu finger waves, snug to the scalp, with glimmering vintage combs.
*** *** ***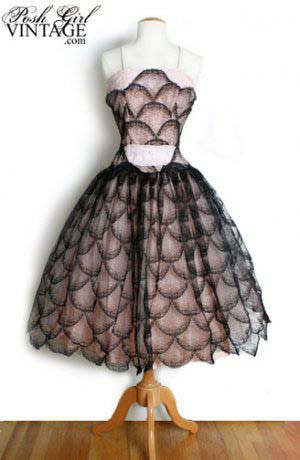 Saving the best for last! When I saw this dress at Posh Girl Vintage, it was like Cupid shot his Circa 1950 arrow straight into my ticker! There's not a thing I would change about this flirty little number — it is charming, sassy, yet titillating. The under layer is ballerina pink (are you noticing a theme with me today, hmmm?) taffeta, then there's see-through black lace in a mermaid scale pattern over — wait for it… wait for iiit… — pink ORGANZA dazzled in pink rhinestones made of crystal. I have a *ahem* mild obsession with organza, so it makes it even harder to resist when the waist sash is also organza, that ties into a gigantic, fanciful bow in the back. This seducing tea length skirt is lined in pink acetate and has a full petticoat as well. I can't get OVER how packed with goodness this lovely bitty is. I wouldn't be posting her if she wasn't sold out because I want her for myself! I am so besotted that I probably would've gotten it for my wedding dress. I could see me in this with a miniature black satin pillbox hat, a jeweled bow & netted veil. #spellbound
*** *** ***
Now, here is where it gets reeeally highly entertaining. I am now going to attempt to publicly humiliate myself. Please, children, don't try this at home. I need your full concentration, silence, & attention to pull these chilling & frightening tricks out of my top hat. Take a deep breath, count to three, and scroll down to see if this works…
Don't say I didn't warn ya.
Keep calm & rave on, Mavens!
~ Angelika Frangelico *gros bisous*