I have been bewitched by photobooths since I was knee-high to a grasshopper. I am not entirely certain what spawned the fiendish fascination with them, but not only did I jump in jublilant glee when I came across one randomly, but I began to collect anything & all things that had to do with them. This pertained to getting all of my most beloved & dearest friends in one with me, mostly (and also making collages out of the strips), but anything I am able to scare up about photobooths is fair game. In a (picture) perfect world, I would have my very own photobooth in the foyer and make it a stipulation once you entered our digs that you MUST have a strip taken. Never underestimate how much I am not ever kidding! Consider yourself warned for when I make my first mill. (<– And I will probably make a plastic windmill before I ever make a mill-mill, so don't go getting yourself all gussied up…… yet!)
One holiday, my mother got me the book Photobooth by Babbette Hines (how GREAT is the name Babbette, by the way?!). I absolutely adore it! What I learned from this book is that in 1925 a Siberian immigrant named Anatol Josepho had the brainchild of a bantam booth with a curtain where people could take portraits of themselves instantly. Because of him, the first photobooth was created. It took about twenty years before there were more than thirty thousand in the U.S. — this large number produced, mostly, due to WWII because the soldiers and their sweethearts exchanged photos through many written love letters home, and visa versa. They became a fixture in drugstores/stores all over, but in the 1960's Polaroid pictures really threatened the automatic photo contraption. (I love Polaroids, too, but BOO!)
The lure of the photobooth for me is that in the confines of the (genius) curtain — and no one there behind the lens — people feel this secure, easy-breezy confidence to just let go and be whatever/whoever they want to be. People become positively daffy, preposterous screwballs without a care in the world! Photobooth pictures are so cut loose! I love how ad-lib, uninhibited, & fun photobooths are, and how the most unposed photos (because no one hardly ever gets the pose right before the next flash goes off) become some of the best accidental memories ever made.
So, as I seem to have a natural knack for & propensity to do… I am going to share some of MY photobooth collection over the years…… and disgrace myself. I was born without a funny bone. These are not the kind of vintage I am enamored by, but I, forlornly, was not born in the 1920's – 1950's. In like manner, they are still vintage for moi & all the amazing  friends & sports beside me in the photos. So, here's some more blackmail material, should you ever need it if and when I DO make that mill-mill.
(You now get to see the many faces & hairdos of Angelika Frangelico, self-proclaimed poser and proud of it!).
And I will conclude with a very vintage photobooth shot near & dear to my heart — the *ultimate* Ravin' Maven, my Grandma Jane. ::cherish::
Keep calm & rave on, darlings!
~ Angelika Frangelico *Gros bisous*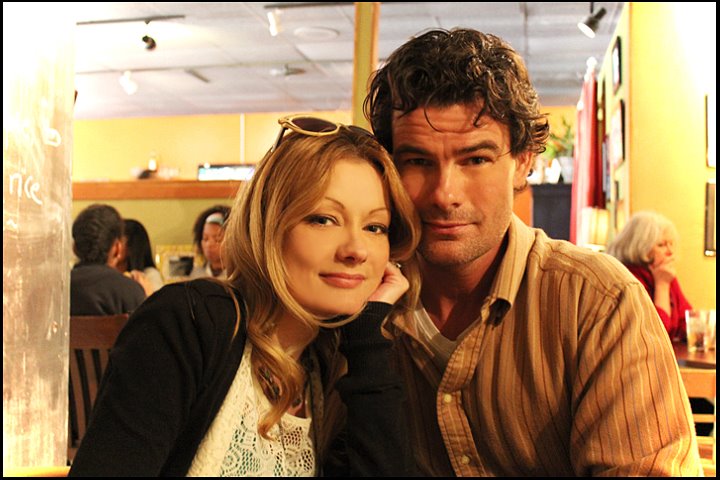 *** I have yet to find a photobooth with my DH, so my signature photo today is of us. LOVE! We've done some research looking for ones in the area that are the classic four-strip, but to no avail — only party rental ones (which I think will be a requirement for our wedding reception!). So, if anyone has any clues as to where to point us, e-mail me at whatsravinmaven@gmail.com! It would be greatly appreciated! Merci!