After I posted yesterday's blog about our time in NYC, my sista from another mutha, DEElicious, brought up the perfume I was wearing when I met up with her for brunch (and later that summer I spent time with her and our other bizzle, Hen, in Cape Hatteras)… After I left DEElicious, both times, she could not stop talking about how I smelled so good. Thank heavens it was that I smelled good! Phew! I wish I could take credit for it, but I can't — Live, LOVE, Laugh, Dream by Brighton gets all the acclaim & honor. Although, DH tells me ALL of the time how he loves my "personal scent" more than all my perfumes on the tray. In fact, this is how I know it's true love… He even loves my "personal scent" after we've been outside for hours on end in the dead of summer, or I am not feeling well and have not showered for 48 hours. He says, "I love Caveman Angelika smell. You have amazing pheromones." Yep, that's just how I like my men — delusional, primal, & easily pleased. ::snort:: Anyway, when I said goodbye to the gals at the Outer Banks, my phone fell out of my beach bag and I ended up leaving it at the Big Blue House, where they were staying (DH & I stayed at the Cape Hatteras B&B, which I can't say enough splashy & splendid things about!) I had to have one of the lovely ladies mail it back to me. When they found it, they told me, "It even still smells like you!" And then they threatened to go into my photo folders and look for risque bawdiness. Friendship: it ain't for the wimpy people or the faint of heart!
Ironically, just the day before DEElicious wrote her comment about my smells — as I like to call my parfums préférés — I had taken a photo of the empty bottle because I *just* spritzed the very last spritz it had left. Even though I always have about a half dozen scents on my perfume tray, I never switch them up. I like to ride the whole bottle out until it's gone. Beyond the fact that finishing a perfume leaves room for a new smell to come into my life, there is a reason I do this… I like to equate smells to a specific time in my life. Then, if there's ever a new time in my life when things are arduous or knotty, I can go back to an old smell from another era of it when things were magnificent & transcendent, reminding myself that this too shall pass or things don't have to be this way. It also works when I am missing a certain place or person. To me, smells are just like a song — as soon as I take off the top and the aroma comes wafting out at me, I am transported, just like that first note that starts up and sends you spiraling backwards like Alice going down the rabbit hole, into another place within your memory & imagination. Oddly enough (or not), my very favorite "perfume" of all-time is actually considered a mens "cologne". I have worn Fahrenheit by Christian Dior off & on since I was 16 years old. I NEVER don't have a bottle in my collection, even if it has merely two drops in it and I am just keeping it around to twist off the cap and let the smell flit & foxtrot, shimmy & swing around the tip of nose. It ferries me back to one of the happiest times of my life, when I was feelgood & effervescent, driving down beachside A1A with the ragtop off my Jeep Wrangler and B L A R I N G Peter Gabriel, Kate Bush, The Police & Jane's Addiction with impassioned wind in my hair and not a care in the world (that was nothing more than a teenage first world problem).
I have mad love affairs with a few staples of which I refer to as my "constants". I love, love, LOVE Yvresse by Yves Saint Laurent. I have just recently been reunited with it, and because of that, it is now the smell I have attached to the most mad, passionate love affair in REAL life that I've ever known. Any bottle of Yvresse is a bottle of nothing but elation, enchantment, & madcap, uncurbed bliss. The story goes like this…
Other than those earlier stated staples, it is *my* ultimate Ravin' Maven, my Aunt Diane (she's always been my own personal Liz Taylor — a bona fide old Hollywood celebrity in my bloodline — that's how I see her when I look at her #stunningtothebone), who is responsible for my many lovesome & lucky perfumes. She sends them to me for my birthday or Christmas almost every year. She is responsible for Live, Love, Laugh, Dream AND Yvresse. However, when she sent me Yvresse in 1994, it was then called "Champagne". EVERYWHERE I went, people would stop me and ask me what I was wearing. I even had a girlfriend, at the time, who lived in my apartment complex and she would say, "I don't know how you can even stand yourself. You smell sooo good. If I were you, I would have my nose in the fold of my arm all day like most germaphobes. I don't know which would look more cuckoo!" Per contra, once I ran out, I kept just a few globules in there so that I could continue to revisit it until I replaced it. Well, I as just a kid back then, and a poor kid at that — I was making ramen out of my coffeepot in my first apartment of my own, so I clearly wasn't buying $100+ perfumes from Yves Saint Laurent at Nordstom at the time (more like Exclamation & Electric Youth from Rite Aid drugstore ::chortle:: (Boy George, did I just date myself or what?!)!
Somehow I am losing direction (imagine that!). Now where was I in this parfums préférés (hi)story… Oh yes (memory of a goldfish over here)… So I went looking for this "Champagne" perfume eeevvverywhere online, once I had a job that payed me more than my barista job at Liberty Coffee Shop & Maude's Classic Cafe. But because the name had changed, I was at a loss. I simply assumed they didn't make it anymore, so now I took even more special care of that empty bottle. Fast forward  17 years… I am STILL trawling around that empty bottle! (It went with me through 4 states, 6 cities, & 9 homes. I told ya I am one batty broad! I wasn't pullin' your chain!) So, right at the beginning of my relationship with DH, we're lying in bed one morning sharing all kinds of stories. DH & I NEVER stop talking. If we're together and neither of us are on our computers working, we're nattering away. (Well, until Skyrim. He needs an intervention! He's even having dreams where he's a Nord, now. So yeah, battle is on like Donkey Kong — "Victory… or Sovngarde!"). He began telling me about how he loves my "personal scent", and how he loves when it stays on him all day. I told him even when he wasn't with me, he couldn't get away from me — that I was like a bad penny… I keep rollin' back. ::smirk:: From there, in any manner, we began talking about all the smells we love ([me] coffee brewing, gardenias in my hair in the summer, my Mini Maven's baby skin, clean linens from the clothesline, pumpkin soup on the stove, my grandparents house when I opened a package from them, and so on…). I end up telling him this same story I am telling you about "Champagne". Bamboozled that I've toted this little glass bottle around for nearly 2 decades, he asks me to get it and show him. He then gets on his phone and starts driving around the www. Just like that, lickety-split, he says, "Done!" I asked, "Done?" He replies, "Yep, done. Your new bottle will be here in a couple days." ::swoon:: Only he got me the jumbo bottle! So, "Yvresse" is the scent I will ALWAYS associate with meeting my DH & starting the best days of my life, other than in 2003 when I had my Mini Maven — so, forever, that perfume will be about perfect completion.
But I've always loved Fahrenheit by Christian Dior, Chanel No.5 (and I love Chanel's Coco Mademoiselle , too), Guerlain's Shalimar, Happy by Clinique, Poison by Christian Dior, Desert Pure-Fume Joshua Tree from Aveda, & I even love Toujours Moi that is a $15 perfume that sold at Walgreens — my Aunt Diane wore it when I was a little girl and it always makes me think of her holding my hand over the armrest of her Cadillac while she drove, listening to Bread. I also continue to ALWAYS love my Woody Sandalwood oil from The Body Shop. I keep an empty bottle of that, too, mostly because I don't think they're making it anymore. ::sob:: And I wear a eucalyptus & spearmint aromatherapy body mist (from Bath & Body Works) to bed every night. It relaxes me as I head off into slumberland. #zzz
Now that I am done with Live, Love, Laugh, Dream, I have moved onto Betsy Johnson. This one has a wondrous, offbeat bottle design, just like Betsy herself! Wanna know the best part? You can get it at Tar-jay and it's ONLY $30! The price of a perfume is never the lure to me because I go for fragrance I find befitting the season, if not just the season of me. Buuut, if it's a real steal, well call me Slick Willie Sutton!
Keep calm & SMELL on, sugar sweets!
~ Angelika Frangelico *Gros Bisous*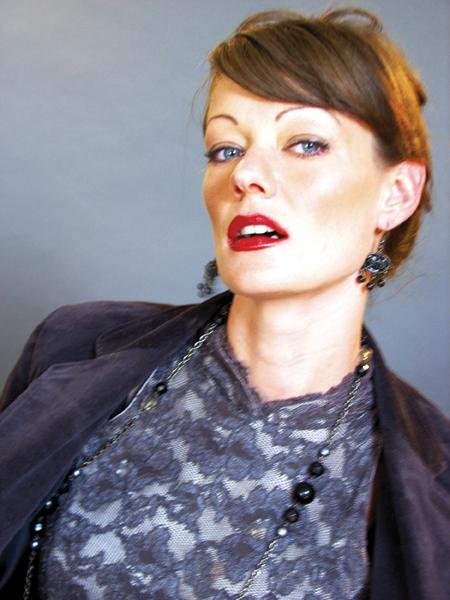 *** What are your constant scents? Comment in the comment section below and share them with What's Ravin', Maven?! I'd love to find out what all you darlings smell like, since I can't take a whiff of ya through my computer screen, and all. 😉